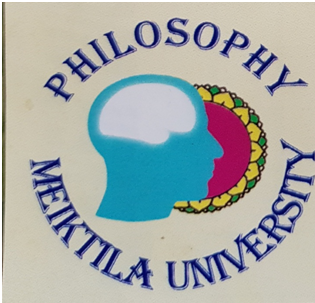 Explanation for Logo
Logo of Philosophy department includes two symbols which argue eastern philosophies and western philosophies.
Symbol of human head represents speculation of human being in terms of western philosophies. The meaning of using white colour for the brain means that there is lack of religious fanatic, gang fanatic and apartheid.
Symbol of lotus is figuratively used to show equity and justice, strength and reaching the top of profession. The lake is embellished with charming colour and lovely smell of lotus. This means that in earthly paradise, those who are sober make the sorry state of environment peaceable and pretty sight.
Vision and Mission
Vision
To strength commit to students' success
To broadly recognize for excellence in teaching and community service.
Mission
 To encourage students to approach education as a life-long learning process and after that contribute to the society
To emphasize the necessity for all our students to learn critical thinking skills, to read well, to write well and to recognize the importance of reflecting on their ideas and values
To foster situations in which students have opportunities to apply these invaluable skills with both historically –oriented and case-based learning techniques and with continual discussion of real-word implications -To strongly support diversity in curriculum and education and to extend that commitment to activities outside the classroom, supporting student engagement across campus and explicitly recognizing our roles as student educational advocates
Philosophy

Dr Kywat Kywat Khaing
Professor
Professor - 1
Associate Professor - 2
Lecturer - 6
Assistant Lecturer - -
Demonstrator - 2
2019-2020 Academic Year
First Year ( 113 )
Second Year ( 53 )
Third Year ( 30 )
Fourth Year ( 16 )
First Year Honous ( 12 )
Second Year Honous ( 4 )
Third Year Honorus (5)
Qualifying Class (3)
First Year Master ( 4 )
Second Year Master ( 3 )
B.A (Philosophy)
B.A (Hons:) (Philosophy)
M.A (Philosophy)
2014-2015 Academic Year - 18
2015-2016 Academic Year - 11
2016-2017 Academic Year - 20
2017-2018 Academic Year - 27
2018-2019 Academic Year - 34