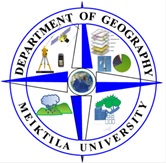 Vision and Mission
VISION
To disseminate the knowledge and awareness for understanding the value of natural environment and to produce the qualified persons with geographic knowledge, thinking and field research experience and then to serve the advantage of our communities from local to global.
MISSION
-To assist the regional and national development
-To encourage and support the learning and teaching for geography
-To provide the students with educational experiences and to conduct the applied researches that benefit for our society and natural environment.
-To enhance collaboration in research and teaching with international universities and organizations.
-To contribute the plans of improving quality of education,training and capacity building
| | | |
| --- | --- | --- |
| No | Name | Rank |
| 1 | Dr Khin Thein Oo | Professor (Head) |
| 2 | Dr Hlaing Myo Myo Htay | Professor |
| 3 | Dr Khin May Win | Associate Professor |
| 4 | Dr Htay Yin | Associate Professor |
| 5 | Dr Khin Aye Yu | Associate Professor |
| 6 | Dr Khin Maung Htay | Associate Professor |
| 7 | Daw Myat Thet Pan | Lecturer |
| 8 | Daw Aye Aye Lwin | Lecturer |
| 9 | Dr San San Yee | Lecturer |
| 10 | Daw Wai Wai Lwin | Lecturer |
| 11 | Daw Mar Mar Aung | Lecturer |
| 12 | Dr Mar Mar Swe | Lecturer |
| 13 | Dr Htar Ei Chaw | Lecturer |
| 14 | Daw Khin Mar Aye | Lecturer |
| 15 | Daw Khin Po | Lecturer |
| 16 | Daw Moe Moe Kyaw | Lecturer |
| 17 | Daw Myint Myint Thein | Lecturer |
| 18 | Daw Nyunt Nyunt Nu | Lecturer |
| 19 | Daw Tin Tin Moe | Lecturer |
| 20 | Daw Khin Than Oo | Lecturer |
| 21 | U Kyi Tin | Lecturer |
| 22 | Daw Than Than Aye | Lecturer |
| 23 | Daw Hnin Hnin Yu | Lecturer |
| 24 | U Tin Win | Lecturer |
| 25 | Daw Su Su Lin | Assistant Lecturer |
| 26 | Daw Aye Aye Cho | Assistant Lecturer |
| 27 | Daw Aye Aye Mar | Assistant Lecturer |
| 28 | Daw Aye Thet Mon | Assistant Lecturer |
| 29 | Daw Kay Thwe Soe | Tutor |
| 30 | Daw San | Tutor |